Sunbury United Sporting Club - History
It all started way back in 1972 and played its first games in 1973 when four men decided to form a team in Sunbury.
J Minette / W Lecch / J Roden / S Cupples
other founding members were Bert Kelly, R Buckland and L Smedley
Sunbury United Sporting Club was formed in 1973 by a group of expatriate Europeans who wanted to play the game they grew up with. In the first year, friendly games were arranged against various branches of the armed forces, visiting British merchant ships and on one occasion a Russian ship that docked in Melbourne. At that time there were no Soccer pitches in Sunbury so the Club played its first two seasons on any available AFL grounds that were converted to Soccer pitches on each match day.
1974 was the Clubs first year in competition and it was placed in the now defunct Western District league. Sunbury stayed in this league for three seasons and its record was very good for a newly formed club.
In 1974 the seniors finished first, the reserves fifth, in 1975 the seniors finished fourth and the reserves sixth. In 1976 the seniors finished second and the reserves first.
In the first move of what now has become a long history of successful co-operation between the Club and the local council, arrangements were made to convert an old paddock into a soccer complex.
In August 1975, Sunbury United moved to its present home on seven and a half acres of sporting ground at Langama Park. Over the years that area has developed and there are now three senior, and two junior soccer pitches with two cricket pitches and practice nets. Although there is still room for improvement to the floodlighting on the main pitch the night games have proven successful. We have hosted a variety of visitors, including State and National league clubs, senior and junior state squads and touring European teams. With the great availability of space, it has been possible to keep the main pitch in first class condition and minimise the risk of injury to players.
Since 1977, when Sunbury was promoted from the Western District league to the Provisional league division 2 the Clubs success has been quite remarkable. The first team finished top in 1978, second in 1981. In the major league restructuring of 1983/1984 the clubs 10th year received a promotion jump from Metro three to Metro one, in that period the reserve squads ability to support the firsts gained one top position and two third spots in their leagues.
Today Sunbury United Sporting Club, has grown our venue offers Bistro dining, Entertainment, Darts, Poker nights, TAB, Fox Sports, Keno and much more. We are a Community Club where everyone is welcome to enjoy the experience at our venue, and or become involved with our Sporting Affiliates.
Become a member and enjoy the benefits that Membership offers,
A new Alfresco area is nearly ready - you will be able to enjoy outdoor dining or drinks in the warmer months and when enclosed this area will cater for use during the winter.
We have a W-Class tram being delivered soon, once this is fitted out will be available for Kids parties or small private functions.
Sunbury United Rugby League Club History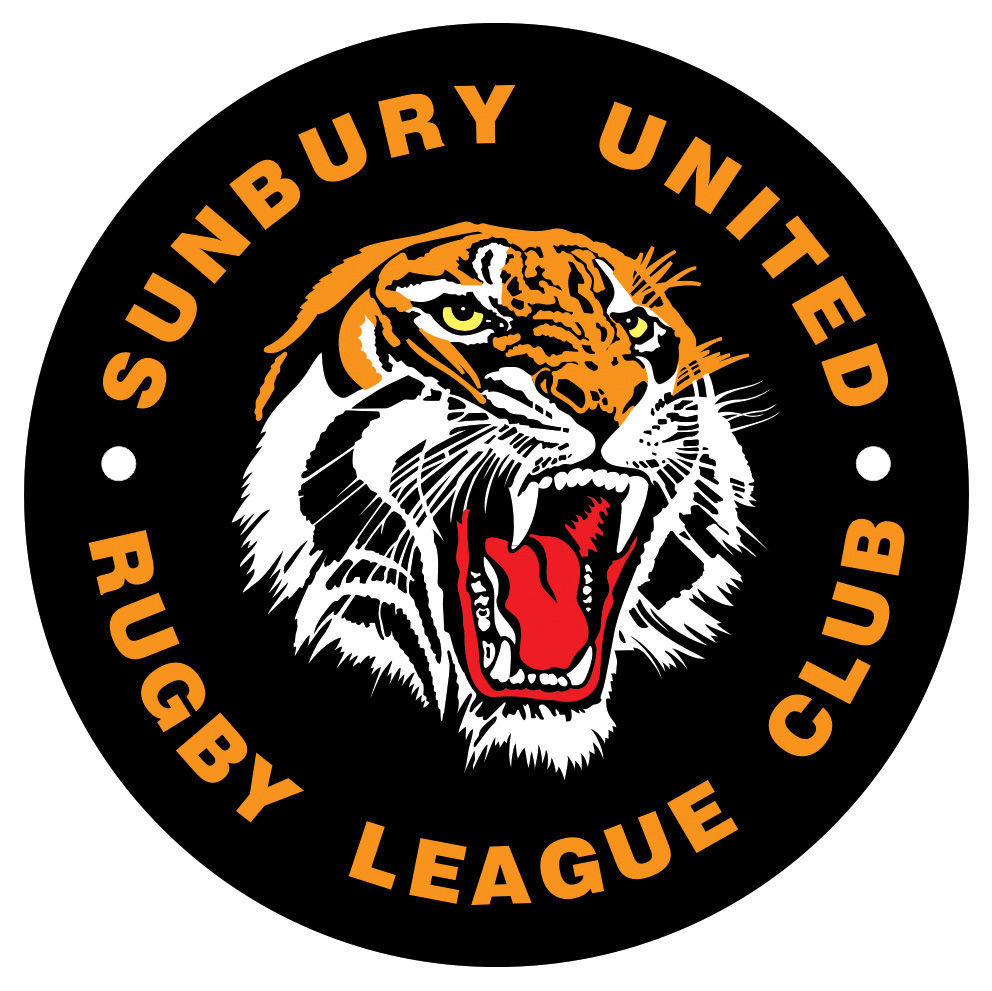 The Club was originally formed by Ted and Maureen Riley after they viewed a Rugby League International game between Australia and New Zealand at Olympic Park in 1991. This left them wondering if Rugby League could take off in the Victorian township of Sunbury. They then placed an advertisement in the local paper looking for other interested parties and on 17th September 1991 the first meeting of the Club was held with 26 members.
The members originally applied to the Victorian Rugby League for membership in 1991 but could not afford the entry fee to begin a club so had to wait until 1992 when the club became officially formed. It commenced its playing in what was known as the Rebel league and in 1994 began with one senior reserve grade team in the VRL competition. In 1995, the club started its first-grade team and 6 junior teams.
Since 1992 and including 2016, the club has gone on to register a total of 613 senior players.
The club (known then as the Sunbury Cougars) played in their first, First Grade grand final in 2000, and suffered a defeat at the hands of St Kilda. Many Sunbury locals were members of that grand final side with the community really getting behind the club's sudden rise under coach Richard Puke.
The Tigers won their first premiership in 2009, beating Casey Sharks 48-18 in the VRL grand final 2011 saw the Tigers win their second premiership in three years against the North West Wolves in overtime 32-26. In 2013 they won their 3rd grand final against Altona Roosters 36-16 and in 2014, won their fourth against a revamped Casey Warriors 48-16. At this stage the Sunbury Tigers have won four of the last eight premierships and may claim to be the current powerhouse of Victorian Rugby League as the Altona Roosters and St Kilda Saints were before them.
In the 2016 season, the junior and senior clubs merged into one body, retaining the name Sunbury United Rugby League Club inc. The Club is run by President Tony Gould and his Committee.
The Sunbury United Rugby League Club is a rugby league team based in Sunbury, Victoria, Australia.
Following are players that went on to play professional first grade rugby league.
Ty Watson -1997 Western Reds Super League
Matt Constantinou - 2012 Melbourne Storm U20
Herschel Gideon - 2013 and 2014 Melbourne Storm U20
Dean Leremia - 2020 Melbourne Storm nines
Sunbury United Cricket Club History
The Sunbury United Cricket Club was founded back in 1973, and since then has been one of the most successful cricket clubs within the Gisborne District Cricket Association. Our home is Langama Park in Mitchells Lane Sunbury which we share with with the Sunbury United Soccer and Rugby clubs.
The Sunbury United Cricket Club has a total of five senior teams, three junior - Under 11's 13's and 17's.
We are also running the Woolworths Junior and Master Blasters for the 5 to 10 year olds.
In total we have around 125 participants - 70 seniors, 40 Junior and 15 in the Woolworths Blasters program.
Responsible Serving of Gaming
Our club will take all reasonable steps to prevent and minimise harm from the operation of gaming machines in this venue, including by monitoring the welfare of customers, discouraging intensive and prolonged gaming machine play and intervening when a customer is displaying behaviour that is consistent with gambling harm.
Sunbury United has a Responsible Gambling Officer available for assistance at all times.
As a small community based club, we are serious about our gaming obligations. We are affiliated with Community Clubs Victoria, and therefore you can be assured that we are operating under approved Codes, and ensuring all codes are in place.
For further information, on our Best practice guidelines for the implementation of Responsible Gambling Codes of Conduct and Self-Exclusion Programs please click here.
To access the Code of Conduct please click here.
_____________________________________________________________________________
Gambler's Help
_____________________________________________________________________________
Self Exclusion
Self exclusion from gambling for our club is managed by Community Clubs Victoria. Self exclusion is an entirely voluntary process. It is an agreement the customer makes with themself and for themself. It involves no other person in any responsibilities – legal or otherwise. Click here to see details of how the Self Exclusion program works.
To become self excluded a customer will need to attend an interview with a CCV officer. At the interview their photo will be taken and they would be required to sign the Deed of Self Exclusion.
Customers should ensure that you read the deed thoroughly and if required, seek independent advice concerning the contents of the Deed. The contents of the Deed is explained to the customer at the interview.
When customers call to arrange an interview time, they will be asked to nominate by name the venue/s they wish to be self excluded from.
If you would like more information on self exclusion, or a customer would like to arrange an interview for self exclusion, contact any Self Exclusion Officer at Community Clubs Victoria on (03) 8851 4949 to arrange an interview time.
YOUR PLAY
Ask our staff about how to track your gambling spend.